What I love about the Glowstick box, is that it can be applied to any funnel. Across any industry.
In fact, I would go as far as to say that you can use it across any page you are selling more than one package to a customer.
Anyways let me show you what we did…
The old design
The old design is pretty simple.
In fact most of you already use this style of design if you sell supplements: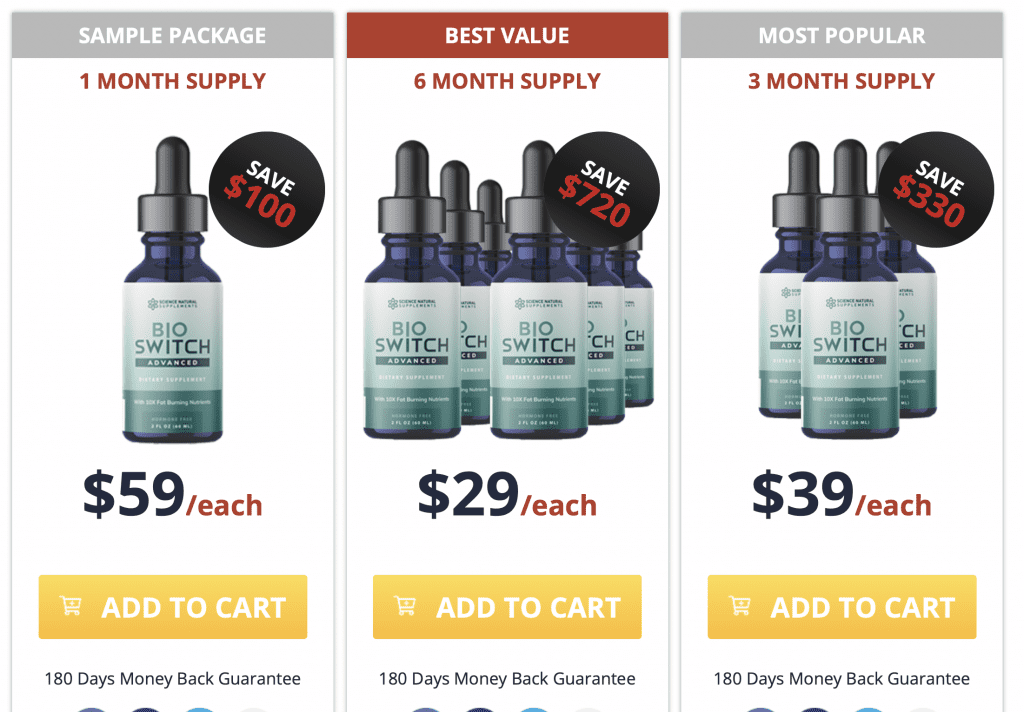 It's the typical 1/3/6 or standard, premium, elite package format.
The new Glowstick box
Now the new design, we made it a point to highlight wherever your cursor was floating over.
As you can see below, it lights up blue… just like a glowstick…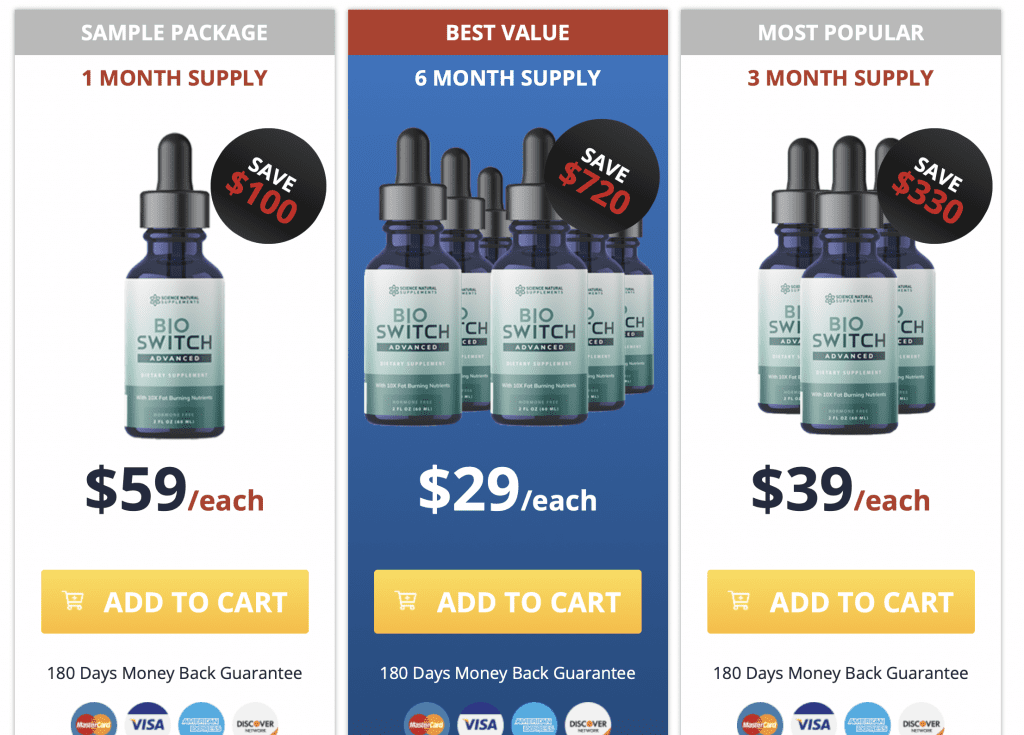 Here's the link to check it out as well (just hover over the buy now area): https://science-naturals.com/bioswitch/tsl1-v5
The results
So this was pretty cool.
Overall the conversion rate increase by 0.25%.
I know, I know that's not a lot. Maybe even a bit of a letdown for you.
Read the conclusion of this article, and you'll understand why this might just be my favourite split test…
But to quickly put this into perspective…
We have A LOT of funnels.
And I consult on a lot of funnels.
0.25% on 10 different funnels adds a TON of profit to our bank account…
Without really doing that much work.
I guess I'd call this a "templated split test"
(oh my, did I just coin a new marketing term?
I think so – you saw it here first)
The Big Point About Little Things
I know everyone is always going on about the big split test wins that move the needle…
But little wins add up…
Especially when they can be translated over to multiple funnels…
In multiple industries…
The little wins really do become quite magical…
And drive a ton of PROFIT into your bank account…
Which here, at beatyourcontrol.com, is what we're all about.
Let the other marketers talk about how they're doing 7 figures a month (but secretly keeping less than 10k)…
I know lots of them. It's not fun place to be in.
Focus on profit. Focus on the little wins.
Play the long game.
And remember my main philosophy:
P>P>R
People over Profits over Revenue
or as we say it in the dog space…
Pups over Profits over Revenue
I'll touch more on that philosophy in a later post, because it's made me a metric shit ton of money…
And will make you rich too…
PT
P>P>R