One of my favourite (yes that's how you spell the word – with a "U") things is when you find a way to increase conversions or AOV without touching the copy.
Because it means that you can (probably) copy and paste the formula across multiple funnels, in multiple industries, and reap the same rewards.
This is one of those.
Stefan (Georgi) teased it a bit at his Copy Accelerator virtual event, but since then we've added it to multiple VSLs, with near identical results 🙂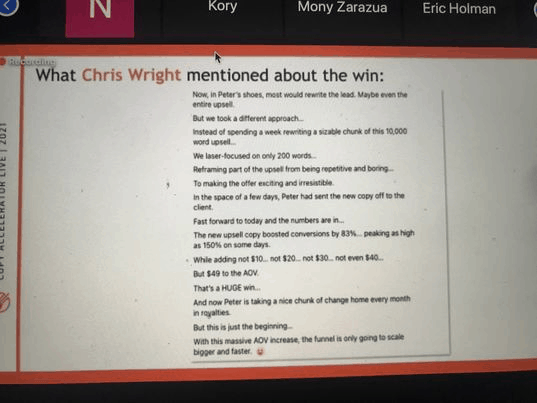 The Original Upsell Breakdown
FE: $97 >> Upsell $497.
For those that don't know, this offer (Inbound Closer) is front end info product teaching phone closing. The upsell is a certification with access to business owners who need closers. It's extremely congruent and works well.
The upsell copy follows a pretty familiar structure. Congratulations >> how would you like done for you results so you can get to your goal faster >> upgrade now.
Very simple. And it was converting at around 15%. Which is not horrible considering it's 5x the FE price. And it's a whiteboard VSL.
Eliminate the unnecessary
Obviously with only 15% cvr, there's room for improvement.
Now most copywriters / marketers will look at testing new headlines, leads, price points… you know the typical stuff. All good strategies.
HOWEVER when you analyze enough funnels, you start to see the Matrix…
And in this funnel, here's what stood out:
It was REALLY difficult for a user to hit the buy now button.
Seriously, on the price reveal the copy dropped (as is normal in VSL upsells) and the buy now button was near the button.
So first we tested a buy now button right under the VSL. Moved the needle, but not much. My hypotheses: people were distracted by the copy.
And at that point in the VSL, and that point in the customer journey they DO NOT need more copy.
All they need an easy way to say yes, a recap of what they're upgrading to and a guarantee that they're not gonna get fucked over.
So that's what we gave em.
The New Upsell + Results
As you can see we removed all the copy and just included a variation of 3 things: OFFER + GUARANTEE + BUY NOW
That's it.
The Results
15>>37.13%
No. I'm not making that shit up. Nearly tripled the CVR with that change.
In fact, one day it even jumped all the way up to 58% (that was an anomaly though)

The AOV was even more magical..
Adding not $10… not $20… but $49 to the AOV…
Here's the best part:
It's not isolated.
We rolled it out now to a second VSL and the results were nearly identical.
And we will most likely roll it out to a third (I'll keep you updated).
Your turn
Here's what I would recommend.
Go through your VSL and upsells, and simply ask yourself:
Is it as easy as possible for the customer to say YES to my offer right now.
If the answer is no… you've got a lever to pull. And it's probably a lucrative one.
Have fun printing money 🙂
PT